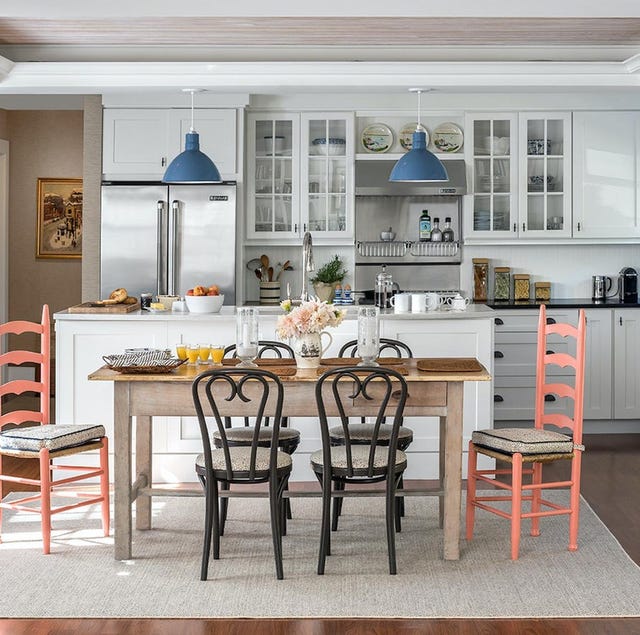 Francois Gagne
Cabinets painted in exuberant hues may be trending at the moment, but the popularity of white kitchen cabinetry still persists. Whether it's white Shaker-style cabinets paired with classic white subway tiles, or white lacquered, handleless cabinets partnered with sleek, white quartz countertops, white cabinets have won over legions of homeowners and designers alike.
White cabinets have played a particularly prominent role in the signature "palette-cleanser" kitchen of the past decade. Defined by pigment-less countertops, backsplashes, and cabinets, white-on-white kitchens are beloved by homeowners who harbor pipe dreams of white sofas and white rugs, but not necessarily the spotless families needed to render them practical. They're also heralded by designers looking to create tranquil kitchens that counteract their clients' hectic, stimuli-heavy lifestyles. Regardless of your personal style inclinations, white-on-white kitchens—and by association, white cabinets—are a foolproof way to achieve sophistication in a space.
Increasingly, however, designers and DIYers are extracting white cabinets from their colorless comfort zone. Rather than partnering them with achromatic finishes, they're accenting white cabinets with dark butcher block countertops, tropical-colored appliances, and kitchen islands armored in cabinet doors painted in high-contrast hues. While it's true that white cabinets are less attention-grabbing than colored ones, opting for white cabinets doesn't have to mean a stark or boring kitchen—not by a long shot. To show you exactly how white kitchen cabinets can invigorate a room, we've collected 27 gorgeous kitchens that make white cabinets feel oh-so-right.
Advertisement – Continue Reading Below
1
Orange Crush
For a bespoke kitchen that oozes sophistication, designer Matthew Quinn integrated pops of Hermès orange, including a custom gas range in the coveted tastemaker hue.
2
Noir et Blanche
Black and white kitchen cabinets echo the black and white tile floor in this arresting kitchen designed by the Chicago-based firm KitchenLab Interiors.
3
Something Blue
A kitchen island clad in cornflower blue offsets the bright white cabinetry installed around the perimeter of this Mill Valley, California kitchen designed by Elena Calabrese Design & Decor.
4
The White Stuff
White cabinets provide a neutral backdrop for an eclectic array of decor in this show-stopping kitchen and dining room designed by designer Chauncey Boothby.
5
Graphic Material
White Shaker cabinets make the perfect accomplice to an adventurous geometric backsplash in this stylishly modern kitchen cued up by New Orleans designer Maureen Stevens.
6
Black and White and Chic All Over
Rebel House Interior Design puts a neoteric spin on a classic black and white kitchen with a full-height quartzite backsplash, dramatic waterfall island, and flat front white cabinets.
7
Into the Woods
White cabinets paired with a bevy of dark wood tones make this Lake Forest Showhouse kitchen by the firm M + M Interior Design an enchanting escape.
8
Teal Thunder
Designer Brian Watford paired white cabinets with a teal island and Norman Cherner bar stools for a dreamy take on a classic-meets-modern kitchen.
9
Bronze Ambition
Displaying how copper and white can be every bit as chic of a combo as black and white, NYC-based designer Allison Garcy elected to pair a bronze tile backsplash with handless white kitchen cabinets in this alluring, sepia-tone kitchen.
10
Victorian Beauty
For a small kitchen in a historic Victorian home, the San Francisco-based firm K Interiors installed white cabinets with a mitered detail that echoes the cornices on the home's built-in archway.
11
Gray Expectations
An exuberant, vintage rug lends gravitas to two-tone gray and white cabinets in this edgy-yet refined kitchen designed by the San Francisco-based firm Chroma.
12
Mint Condition
Designer Chauncey Boothby paired white cabinets with twin mint green-painted islands, hanging pendants, marble countertops, and rattan counter stools to tee up a fresh and ebullient-feeling kitchen.
13
Eclectic Soul
To imbue a rustic kitchen with modern soul, KitchenLab Interiors opted for classic white Shaker cabinets as upper cabinetry and flat panel, cerused wood cabinets as lower cabinetry.
14
When in Chrome
To make industrial appliances feel infinitely more luxurious, designer Matthew Quinn elected to pair them with a striking marble backsplash and chrome-clad, white lacquer cabinets.
15
Sail Away
To up the coastal vibes in this breezy kitchen, designer Lisa Tharp topped flat front white cabinets in bespoke countertops made of refurbished sailboat decking.
16
White Cap
This swoon-worthy kitchen designed by Diane Burgoyne Interiors features white cabinetry as a part of a crisp blue and white palette.
17
Rustic Finishes
White cabinets outfitted with black pulls are the perfect complement to time-worn finishes in this kitchen designed by Sean Anderson Design.
19
Whimsical in White
An underlying gridwork set in motion by a square tile backsplash, square lantern-style pendants and simple white cabinetry make the animal-leg counter stools in this kitchen designed by Chandos Interiors feel unexpectedly adventurous.
20
Rock Out
For a farmhouse kitchen, designer Patrick Ahearn complemented white cabinets with an accent wall covered in New England fieldstone and a pocket-style barn door.
21
Beadboard Beauty
To enhance a primarily black and white kitchen, designer Allison Garcy opted for white cabinets with beadboard fronts and adorned with chrome bin pulls.
22
Great White
Elements from multiple eras, including leaded glass cabinet door fronts, Jean Prouve dining chairs, and contemporary brass dome pendants, meld harmoniously thanks to the neutral backdrop provided by classic white cabinetry in this kitchen designed by 2to5 Design.
23
Clean Slate
A surplus of white—including white kitchen cabinets—makes this open concept space by Ayromloo Design a natural canvas for pops of vibrant color.
25
Let There be White
White cabinets make this cove-like kitchen crafted by designer Paul Corrie feel miles bigger, while antiquated accents lend a hint of historic charm.
26
Classic Black and White
Opposite sides of the spectrum collide in this beyond-chic kitchen teed up by designer Beth Webb.
27
Industrial Beach Chic
White cabinets provide a classic backdrop for a rich interplay of beach and industrial accents in this striking kitchen teed up by New York City-based designer Jenny Wolf.
This content is created and maintained by a third party, and imported onto this page to help users provide their email addresses. You may be able to find more information about this and similar content at piano.io
Advertisement – Continue Reading Below